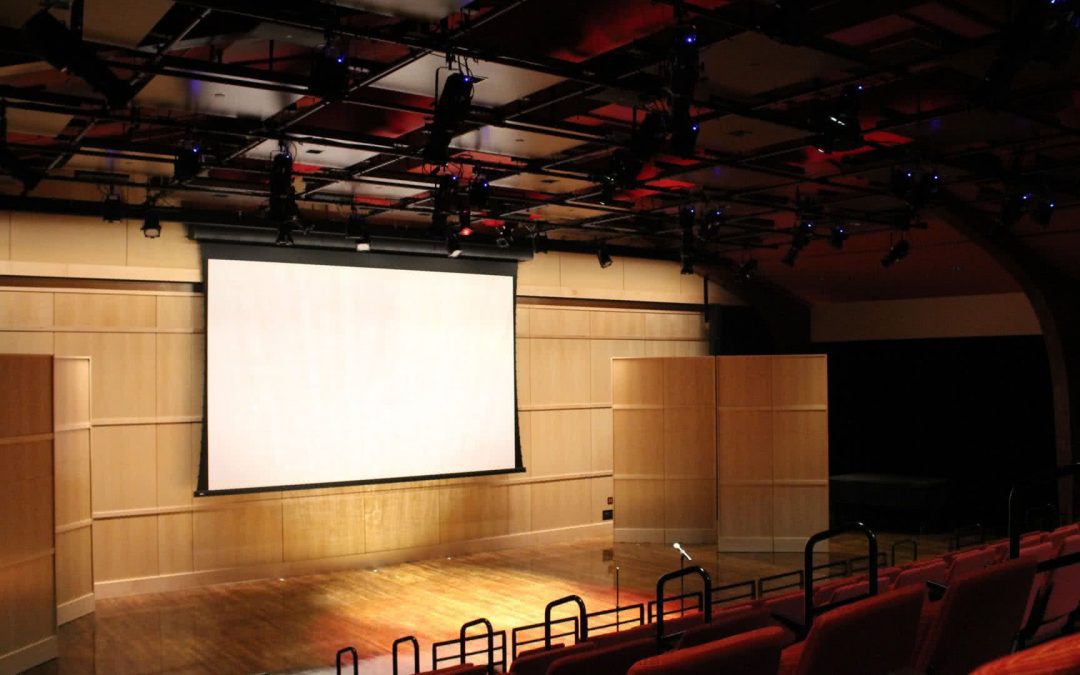 Simpson Center for the Performing Arts
The prestigious Baldwin School in Bryn Mawr, PA had big plans for their outdated gymnasium space. With a tight deadline and a $500,000 budget, they called on Starlite to help transform the gym into a multi-purpose performance and event venue. Starlite's directive was to design a versatile space with the flexibility to host a wide array of events such as musicals, concerts, lectures, and theater performances. With only a two-month deadline, Starlite's Integration Department quickly mobilized its team and got down to business with the construction team.
The space was upgraded with a state-of-the-art video and projection systems, including an NEC 8,000 lumen laser projector, a Draper Paragon 132″ x 211″ screen and Crestron distribution and control.
The client also wanted attendees in the lobby of the Simpson Center and in their Skye Room to be able to view performances as they were happening live. To do that, Starlite installed two 65″ Sony Bravia screens in the lobby area, a Sony BRC-z700 camera to be used with the Vaddio Quick-Connect CCU, ProductionVIEW controllers and an AV Bridge as well as a NEC preview monitor.
Prior to this upgrade, the school had previously held small-scale productions in various hallways or open-spaces throughout the school. Now the new space boasts a 45′ x 45′ pipe grid from which to hang lights, scenery and drapery, sound reinforcement, distributed audio/video, video projection, acoustical curtains and track systems, performance space house lighting, and theatrical lighting.
Audio components of the new space consisted of Soundcraft's Si Performer 2, Mini Stagebox 32, Compact Stagebox and for DSP the BSS BLU-806. The speaker and amplification were a combination of JBL speakers, subwoofers and distributed speakers paired with Crown DCi amplifiers for enhanced performance sound quality.
Lastly, the crew installed ADC curtain tracks with Curtains, Cyclorama and Scrim. Then they gave the performance space the ultimate upgrade with ETC lighting and dimming system which included (30) ETC Source Four LED Series 2 Lustr and (20) ETC Selador Desire D40 Lustr+ fixtures.
Architect
Voith & Mactavish Architects LLP
Civil Engineer
Chester Valley Engineers
Theater Consultant
Fisher Dachs Associates
Acoustics & A/V Consultant
Marshall/KMK Acoustics
MEP & Structural Engineer
Bala Consulting Engineers