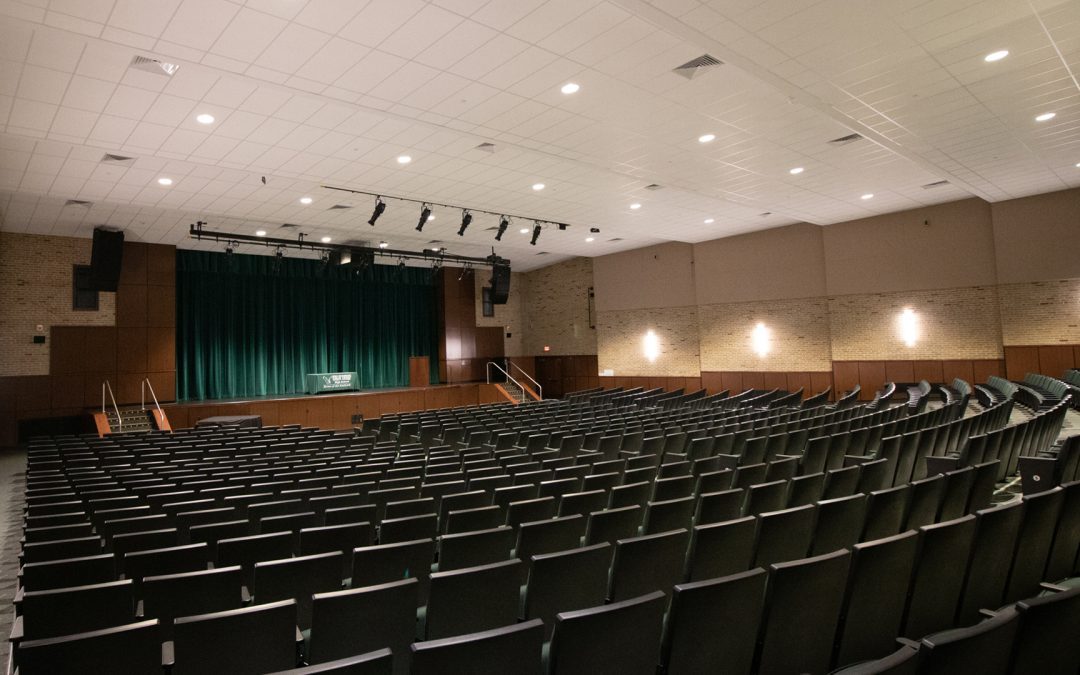 Winslow Township High School Auditorium
This project was a complete renovation of the auditorium at Winslow Township High School. This included the replacement, and upgrade of all theatrical systems, including audio, video, lighting, and rigging.
Starlite was hired by the electrical contractor (DEC Electric) to provide all the equipment and labor to complete the installation of each of these systems. The total cost of the theatrical portion of this project was close to $750,000. 
This project required careful coordination with many allied trades over many months to ensure that construction was done efficiently and without conflict.
Though there were a few delays in construction (when is there not?), the contractors were able to turn over a newly renovated, fully functional theater to the school on time. The school's theatrical team, as well as administrators were very impressed.
The rigging system included (4) Thern clew winches that allow a user to raise or lower the on stage pipe battens containing lights. This is helpful for the theatrical team to change, move, clean, adjust, etc. fixtures without use of ladders or lifts. At the FOH location, we installed a ETC 1500 Prodigy Hoist system, which allows the same convenience of the winches, with just the push of a button to trigger the electric motor.
The A/V system was highlighted by the left and right line array speakers, as well as two subwoofers that were flown above the front of the stage. The arrays were comprised of 5 Community !V6 12″ modular speakers each. Feeding these speakers were QSC CXD power amplifiers. The audio processing was done by Q-SYS Core, also by QSC. For live performances, the use of the Allen and Heath SQ 7 mixing console was integrated.
Crestron is being used for control systems. The system is designed to function in two modes: "Easy Mode", which gives the user control through one of the two 10″ touch panels located in the back of the room, as well as on stage. This mode would be helpful for a lecture, or quick slide-show display for more of a educational setting. The other mode is "Advanced Mode", which is typically used to live performances and is controlled through the use of the lighting and audio consoles. This allows for a more customizable setup.
The theatrical lighting fixtures were entirely furnished by ETC, all of the Color Source family. These included 20 spots, 30 pars, and 8 cycs.
Lighting is being controlled by Interactive Technologies Cue Server 2 Pro. For live performances, the user has the ability to control the lighting through the ETC Ion xe console.
Both audio and lighting consoles are neatly house in beautiful teak bodied, stainless steel roll top desks, made by HSA.
Architect

: Garrison Architects

Theatrical Consultant

: Starlite

General Contractor

: Dandrea Construction
RIGGING
• Thern Clew winches
• ETC Prodigy Hoist
• Rose Brand Curtains
LIGHTING
• ETC CS Spots
• ETC CS Pars
• ETC CS Cyc
• ETC Ion XE Console
• The Light Source RL120W78-30EJR LED Recessed House Lights
AUDIO
• Allen and Heath SQ7 console
• Community IV6 1122 speakers
• QSC Q-SYS Core 110f DSP
• QSC CXD Power Amplifiers
• Crestron DMPS3-4K-350 Air Media Control Processor
Lighting
ETC CS Spots
ETC CS Pars
ETC CS Cyc
ETC Ion XE Console
The Light Source RL120W78-30EJR LED Recessed House Lights
Audio
Allen and Heath SQ7 Console
Community IV6 1122 Speakers
QSC Q-SYS Core 110f DSP
QSC CXD Power Amplifiers
Crestron DMPS3-4K-350 Air Media Control Processor
Rigging
Thern Clew Winches
ETC Prodigy Hoist
Rose Brand Curtains