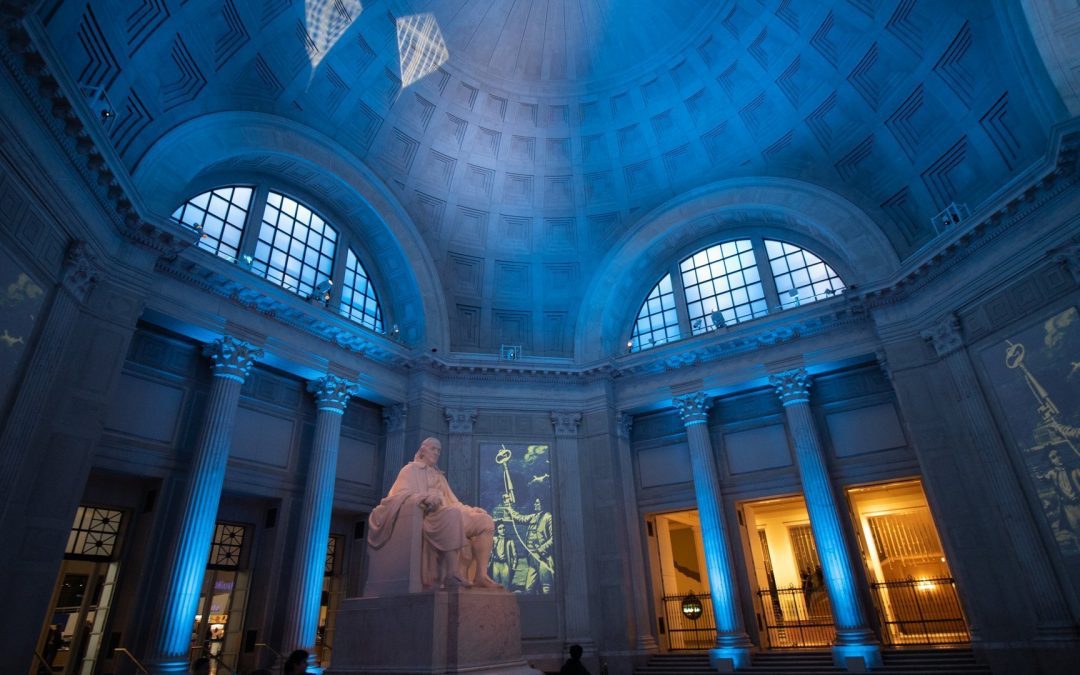 Franklin Hall at the Franklin Institute
The Franklin Institute needed to replace their 11 year old failing early-generation LED wash lights and controls; originally installed by Starlite, which lit Franklin Hall for everyday activities, in addition to a looping "architainment" style multimedia show and special events. The new system also needed to improve reliability and ease of adjustment for the Franklin Institute staff.
Starlite provided one-to-one replacements for the original lighting fixtures, new data distribution hardware and two new ways to control the lighting. An ETC Mosaic processor handles day-to-day show and preset playback, while also enabling custom controls that make 95% of the room's predicted uses available behind a few button presses. For the 5% of events that don't fit these controls, an ETC Nomad system is utilized for full theatrical-style control of the room. In addition, Starlite worked closely with FI staff to reprogram the centerpiece "Benjamin Franklin Forever" show to take advantage of the improvement of the control system and bring the show back in line with the original design. Concurrent with Starlite's work, IMS Technology Services replaced the audio and video backbone and provided a new user interface that seamlessly integrates lighting control with the other systems in the room.
Equipment
(32) ETC ColorSource Linear 1 Deep Blue
(8) ETC ColorSource Linear 2 Deep Blue
(12) ETC ColorSource Linear 4 Deep Blue
(1) ETC Mosaic MSC2
(1) ETC Mosaic Remote I/O
(1) ETC Nomad Unlocked
(4) ETC Response Mk2 1-port Wall-mount Gateway
(2) ETC Response Mk2 4-port Rack-mount Gateway
(4) ETC Response Mk2 2-port Wall-mount Gateway
(1) ETC Response Mk2 4-port DIN rail mount Gateway
(1) Cisco SG350X-Switch – 24 x Gigabit Ethernet Network, 2 x 10 Gigabit Ethernet, POE+
(1) Dell Inspiron 5582 2-in-1 Touchscreen Computer
Starlite's work on this project was slickly engineered, competitively priced, and installed without a hitch. The whole team were super dedicated and easy to work with. They handled collaboration with our AV vendor, were on-time and on-point. The project manager and programmer handled the work nimbly, and produced a unified lighting system that is beautiful and functional — working equally well in automated daytime operations AND flexibly for after-hours operations in our classically designed National Memorial.
The confidence we had in Starlite from previous experiences was a key factor in bringing them back to complete the lighting upgrade.